Did Democrats systematically engage in a calculated coverup to hide the fact that the Clinton Administration dropped the ball on al-Qaeda? The Left had a field day with the "it happened on George W. Bush's watch" mantra. But the facts seem to be adding up to a scenario much different… and much more focused on Democrats instead.
From Fox:
On Wednesday, a source familiar with the Sept. 11 commission - formally known as the National Commission on Terrorist Attacks Upon the United States - told FOX News that aides who still had security clearances had gone back to the National Archives outside Washington, D.C., to review notes on Atta and any information the U.S. government had on him and his terror cell before the Sept. 11 attacks. The source acknowledged that the aides were looking for a memo about a briefing given to four staff members by defense intelligence officials during an overseas trip to Afghanistan, Pakistan and Saudi Arabia in the fall of 2003.
In fact, the briefing was in October, 2003.
From WaPo.com:
Berger reviewed copies of thousands of documents on July 18, Sept. 2 and Oct. 2, 2003, Breuer said. Later in October, the Archives notified Berger that documents were missing.
Now we're finding out the documents in the National Archives, about which the 9/11 Commission was briefed, contained information showing that our Intelligence Community knew of Mohammed Atta and other al-Qaeda terrorists well before 9/11.
Don't forget, to the Clinton administration members, this was just a laughing matter.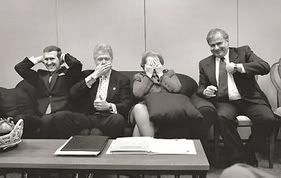 Captain Ed adds some insight beyond the "Bergler coincidence". He points to Jamie Gorelick's participation on the 9/11 Commission, considering she was Deputy Attorney General for the Clinton Administration who had "established a heightened 'wall' prohibiting the sharing of intelligence information and criminal information" at the Justice Department and the fact that she had much to gain from the "blame [being placed] on the intelligence community rather than the bureaucracy which stripped it of its ability to act in the interests of our security."
In April, 2004, James Sensenbrenner challenged Gorelick's position on the 9/11 Commission and said, "I believe the commission's work and independence will be fatally damaged by the continued participation of Ms. Gorelick as a commissioner." Maybe he was on to something.
Chairman of the 9/11 Commission, Democrat Lee Hamilton, curiously said, just a few days ago:
"The Sept. 11 commission did not learn of any U.S. government knowledge prior to 9/11 of surveillance of Mohammed Atta or of his cell, had we learned of it obviously it would've been a major focus of our investigation."
But now a spokesman for the Commission contradicts Hamilton's claim:
The Sept. 11 commission knew military intelligence officials had identified lead hijacker Mohamed Atta as a member of al-Qaida who might be part of U.S.-based terror cell more than a year before the terror attacks but decided not to include that in its final report, a spokesman acknowledged Thursday.
So who is lying? And why?
I agree with Ed, Congress needs to get to the bottom of this… and now!
Update: Rusty has followed my lead with this story… even though he posted a full day before me, I know he was reading my thoughts before I wrote them down. Some kinda Darth Vader mindmeld stuff, I think. He wants to know who the broken link was that prevented key information from getting to those who could act. He doesn't blame the person, but accurately focuses on the "Gorelick Barrier".