As we're sitting here paying out the wazoo for gasoline, they just sit smugly back in their overpriced chairs and enjoy their enormous revenue from the sale of gasoline.
But wait, you say, they should be rewarded for all the risks they endure in bringing gasoline to the market. Wrong! There is clear evidence that they don't bear any risk in discovering, capturing, refining, distributing or marketing the oil and gas. Zero. Zip. Nada. In fact, sometimes they even try to make the such efforts more difficult… on purpose!
And make no mistake about it, they want to take even more of your money. They're the greediest forms of life on the planet.
They are… the government.
State and Federal Treasuries "Profit" More from Gasoline Sales than U.S. Oil Industry

[B]etween 1977 and 1985, the oil industry recorded relatively high profits—averaging nearly $33 billion per year, after adjusting for inflation. These good times were followed by ten years of relatively flat profits, averaging just $12.3 billion per year. In 1996, profits began to rise again but have been anything but stable, ranging from $9 billion to nearly $42 billion per year. Between 1977 and 2004, the industry's domestic profits totaled $643 billion, after adjusting for inflation.

In contrast, federal and state taxes on gasoline production and imports have been climbing steadily since the late 1970s and now total roughly $58.4 billion. Due in part to substantial hikes in the federal gasoline excise tax in 1983, 1990, and 1993, annual tax revenues have continued to grow. Since 1977, governments collected more than $1.34 trillion, after adjusting for inflation, in gasoline tax revenues—more than twice the amount of domestic profits earned by major U.S. oil companies during the same period.
Oil companies are the ones facing all the risks, not the federal and state governments. And it's obvious by the chart below that their rewards fluctuate greatly… while the fat cats in the state houses and federal buildings steadily increase their share.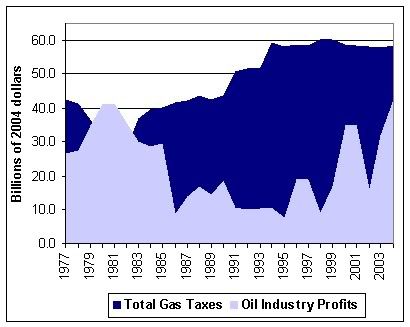 Source: Bureau of Economic Analysis - U.S. Energy Information Administration
So those of you who are complaining about gouging in the price of gasoline today, you're right. But you're focusing your anger on the wrong people.
As lawmakers respond to rising gas prices, they should keep in mind the importance of state and federal gasoline taxes in comparison with oil industry profits.