In celebration of the new launch, I will be giving away two… yes TWO… Toshiba 10GB gigabeat MEG-F10B Aqua Blue Acrylic Digital Audio Players.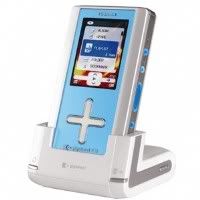 1. Tell people about the site. When you tell them, be sure to tell them to comment on this post or contact me and tell me who referred them. At the end of May, the person with the largest number of referrals wins one. (I will monitor IPs to cut down on fraud)
2. Advertise on this site. Post a blogad of one month or longer and you will be entered into a random drawing in May.