Hat tip to Michelle for the title.
If you haven't been living under a rock this past week, you have undoubtedly seen blogger coverage of the doctored photos being published by al-Reuters and other outlets. As I was surfing through the news pictures on Yahoo, I noticed something interesting myself.
After LGF had originally exposed al-Reuters stringer Adnan Hajj to be a photoshopping fraud, other bloggers joined in the review of thousands of photos submitted by stringers covering the Israeli-Hezbollah conflict. Rusty Shackleford at MyPetJawa caught Hajj in another photoshopping job. The efforts of these and many other bloggers led to an al-Reuters admission of impropriety and the firing of Adnan Hajj. (Though Rusty thinks he may still be employed under another name)
Rusty hoisted his "trophy" as al-Reuters killed this second fraudulent picture as well.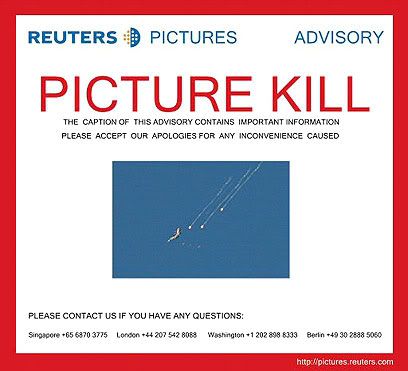 Or did they?
In searching the Yahoo news photos, I came across this photo: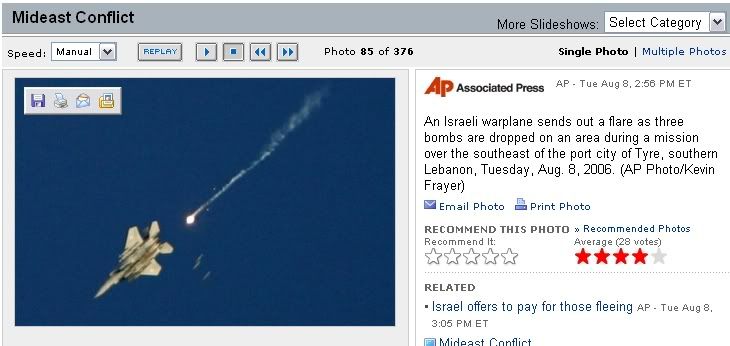 The tagline:
An Israeli warplane sends out a flare as three bombs are dropped on an area during a mission over the southeast of the port city of Tyre, southern Lebanon, Tuesday, Aug. 8, 2006. (AP Photo/Kevin Frayer)
Looks pretty similar to Hajj's photo. Although the plane's in a slightly different position, it's dropping the same apparent flare and three bombs - and this photo looks to be taken just moments before Hajj's photo, as evidenced by the shorter smoke trail and poximity of the falling bombs… but they're taken from virtually the same position, though this AP photo says the bombing is occuring over Tyre on August 8th, while the al-Reuters photo says the bombing is occuring over Nabatiyeh on August 2nd.
Frayer and Hajj were also side by side in photographing "Green Helmet Guy".
So is it just a coincidence that the latest Frayer photo looks so similar to the one Hajj photoshopped, despite being 6 days apart and in different cities? Considering the amount of fraud already exposed by the media outlets in this conflict, it's hard to write this off as a mere coincidence.
UPDATE: A few people have emailed and left comments pointing out that it may be two different planes (F-15 vs F-16) in the respective pictures. I guess this is just a popular photo for the stringers.