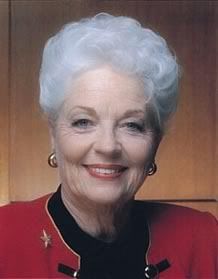 Former Texas Governor Ann Richards passed away yesterday and Texas lost a prominent figure. While I didn't agree with most of her politics, I admired the way she held no pretenses… something unique for politics. The Washington Post asked her what she might have done differently had she known she would be a one-term governor, she said, "Oh, I would probably have raised more hell." That was Ann for ya.
In the spirit of a non-partisan memorial, here are some things I did agree with Governor Richards on:
- Stressed government efficiency by authorizing comprehensive audits of every state agency.
- Focused on education as well, introducing site-based management to put more power in the hands of the parents and teachers at the campus level.
- Increased prison space, cut the release of violent offenders, and opposed the sale of assault weapons and "cop-killer" bullets.
President Bush, who won the 1994 election for Texas Governor, making Richards a one-term Governor, had this to say:
As a public servant she earned respect and admiration. Ann became a national role model, and her charm, wit and candor brought a refreshing vitality to public life. … Texas has lost one of its great daughters."
And former President Bush, who's enjoying the media's incessant replaying of Richard's 1988 Democratic National Convention speech, remembers her:
"You never had to wonder where you stood with Ann, which I admired. I joined millions in laughing at the 'silver foot' comment, which doesn't mean I wasn't happy when she was defeated by our son a few years later. But that's politics, and Ann was one of the best in that arena. Texas will miss her."
Public funeral services for Richards will be held at the University of Texas Frank Erwin Center on Monday. She will lie in state in the Texas Capitol rotunda Saturday and Sunday.