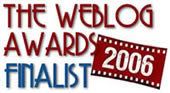 For the second year in a row, TexasRainmaker is a finalist for the Weblog Awards. Thank you to all of you who read this blog.
Last year, it was the "Best of the Top 501 - 1000 Blogs" category and this year, we've moved up in the rankings and are now a finalist in the "Best of the Top 251 - 500 Blogs". The category is full of great blogs. The other finalists in this category include:
Betsy's Page
Confederate Yankee
Flopping Aces
Jarhead's Firing Range
Point Five
Regime Change Iran
Sister Toldjah
The Daily Brief
Star Sailor
Blog readers can begin voting for 450 finalists in 45 categories tomorrow at the 2006 Weblog Awards. Be sure to vote for your favorites, and may the best blogs win!