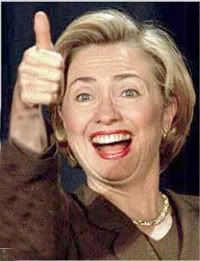 I guess we see how Hillary's campaign plans to head off the potential Obama threat.
If you can't beat 'em… buy 'em.
A key black Democratic leader in South Carolina has negotiated a $10,000 per month consulting contract with Sen. Hillary Rodham Clinton's campaign, a development that came to light when the lawmaker endorsed the presidential hopeful.
And of course, in fine Clinton fashion, Hillary is denying it all:
Democratic presidential candidate Hillary Rodham Clinton on Monday denied that her campaign traded money for an endorsement from one of South Carolina's most influential black politicians.
Hmmm…. so state Sen. Darrell Jackson, who endorsed John Edwards for President in 2004, "negotiated" a deal with Hillary's campaign, then suddenly endorsed her over Edwards and other Democrats running for President. Just another one of those strange "Clinton coincidences", I guess.