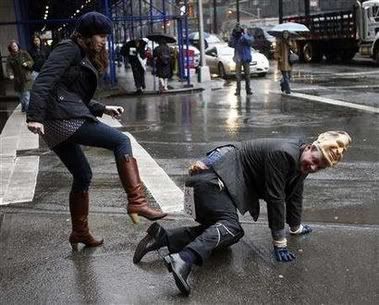 Proving it's a very slow news day, al-Reuters is covering (and Yahoo has an entire photo gallery dedicated to) the hard-hitting story of a Bush-hating liberal crawling on his hands and knees around Manhattan… (hat tip: Allahpundit)
New Yorkers got to kick President George W. Bush's butt on Thursday, sort of.

Performance artist Mark McGowan kicked off his bid to crawl for 72 hours across Manhattan dressed as the president, offering the opportunity to kick his backside.

The controversial artist from London began his odyssey from New York's Lincoln Centre wearing a rubber George Bush mask, a business suit, knee pads, work gloves and a sign stuck to his cushioned posterior reading simply: "Kick My Ass".
But al-Reuters is missing the real message here. McGowan is demonstrating the definition of liberal foreign policy: "PLEASE KICK OUR ASS!".
And look how al-Reuters carries the water for the anti-Bush McGowan:
McGowan said he does not have any particular political stance on the Republican president, who has seen his approval ratings plunge in the face of an unpopular war in Iraq
The falsity of this statement should be obvious to even the mildly retarded considering the "performance" McGowan is presenting… but a simple reading of McGowan's own website contradicts the article on this point.
McGowan says that he is "offering the people of America, New York and visitors a service…a kind of theraputic engagement. Hopefully people will be able to come and kick me (the President, George Bush) as hard as they like, and gain some comfort in the fact that they can say I kicked George in the ass. On a more serious note this is a protest against George Bush and his policies and i am expecting injuries, i just hope not to severe.
Another day, another liberal-water-carrying story from al-Reuters…