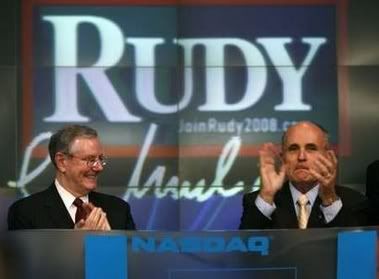 This is a nice endorsement for Rudy.
Fiscal conservative Steve Forbes on Wednesday endorsed former New York mayor Rudy Giuliani's bid to become the Republican nominee for president in the 2008 race for the White House.

Forbes, chief executive of Forbes magazine who unsuccessfully sought the Republican nomination in 1996 and 2000, is considered a leader of the party's pro-business and tax-cutting wings.

"He is the man who can lead America in a world that is uncertain, fight the forces of evil and at the same time increase economic opportunity here at home," Forbes told a press conference.
According to an email I got from the Exploratory Committee Chairman, Forbes will serve as a National Campaign Co-Chair and Senior Policy Advisor to the campaign:
The Rudy Giuliani Presidential Exploratory Committee today announced that Steve Forbes, President and Chief Executive Officer of Forbes and Editor-in-Chief of Forbes magazine, has endorsed Rudy Giuliani for President of the United States. Mr. Forbes will serve as a National Campaign Co-Chair and Senior Policy Advisor.

"I am honored to support Rudy Giuliani for President," Steve Forbes said. "As Mayor of New York City, Rudy Giuliani showed how exercising fiscal discipline – including tax cuts – lowers deficits, spurs economic growth, and increases revenue. It is time the rest of the country benefit from a true fiscal conservative leader who gets real results."

"Steve and I share an economic vision that embraces supply-side economics, tax relief, and spending restraint," said Mayor Giuliani. "I look forward to working with Steve and am proud to have him as a member of our team."
I saw Steve Forbes at an event here in Houston a couple of weeks ago:

I really like his stance on the tax code in this country. He advocates getting rid of it. That's a plan I can fully support.