Reports are scattered right now. Here's the latest from ABCNews:
At least 29 people are dead in what may be the biggest mass killing on a college campus in American history — and the death toll may rise.

Police at Virginia Tech, in Blaksburg, Va., said that the shootings happened at a dormitory and a classroom on opposite sides of the university campus.

Law enforcement sources tell ABC News the shooting may have been set off by an off-campus incident.

Virginia Tech Police Chief Wendell Flinchum said that one person was killed in the first shooting, which occurred just after 7 a.m. at West Ambler Johnston Hall, a large dormitory. Flinchum said that at least 20 more people were killed at Norris Hall, an academic building.
So where have we heard news of Virgina Tech and guns before?
January 2006, when Virginia Tech administrators proudly proclaimed how safe their school would be when honest citizens were banned from posessing legally-permitted guns.
A bill that would have given college students and employees the right to carry handguns on campus died with nary a shot being fired in the General Assembly.

House Bill 1572 didn't get through the House Committee on Militia, Police and Public Safety. It died Monday in the subcommittee stage, the first of several hurdles bills must overcome before becoming laws.

The bill was proposed by Del. Todd Gilbert, R-Shenandoah County, on behalf of the Virginia Citizens Defense League. Gilbert was unavailable Monday and spokesman Gary Frink would not comment on the bill's defeat other than to say the issue was dead for this General Assembly session.

Virginia Tech spokesman Larry Hincker was happy to hear the bill was defeated. "I'm sure the university community is appreciative of the General Assembly's actions because this will help parents, students, faculty and visitors feel safe on our campus."
How's that "safe feeling" working out for you today, Larry?
Last spring a Virginia Tech student was disciplined for bringing a handgun to class, despite having a concealed handgun permit. […] In June, Tech's governing board approved a violence prevention policy reiterating its ban on students or employees carrying guns and prohibiting visitors from bringing them into campus facilities.
Great. Because we all know criminals will abide by such policies. Meanwhile, someone who could've taken the perpetrator out before he ran his score up to 29+ was prevented from doing so because some administrators wanted to give the tuition-paying customer base a false sense of security.
UPDATE:
I changed my headline as, in reflection, it seemed a little inappropriate.
UPDATE 2:
Allah has a good roundup, including an eyewitness account posted on a VT frat listserv.
UPDATE 3:
Cell phone video from the scene:

UPDATE 4:
Some reports from students coming in claim the University didn't notify anyone of the earlier shooting around 7:00 AM (second round of shootings apparently happened 2 hours later). Looks like many people went to campus completely unaware of what was transpiring. The Universtiy will have some explaining to do on that one.
UPDATE 5:
Here's an editorial from Virginia Tech spokesman, Larry Hinckler from last Fall, in response to another editorial entitled "Unarmed and vulnerable":
The writer would have us believe that a university campus, with tens of thousands of young people, is safer with everyone packing heat. Imagine the continual fear of students in that scenario. We've seen that fear here, and we don't want to see it again.

Guns don't belong in classrooms. They never will. Virginia Tech has a very sound policy preventing same.
The title of Hinckler's editorial was, "Imagine if students were armed." Yes… let's imagine.
UPDATE 6:
And right on cue, here comes the Old Gray Lady to tell us guns are bad. And MSNBC rolls out a "gun control" special… I wonder if those who are giving me heat for my post will show the same outrage for the anti-gun lobby quickly turning on their campaign.
UPDATE 7:
A list of victims.
UPDATE 8:
Someone claims to be the one who sold the guns to the shooter. If this is true, and if it's true he was here on a student visa, then this would go to show that gun laws don't prevent or deter criminals from obtaining guns. It only prevents law-abiding citizens from obtaining them… and protecting themselves…
Call BS all you like, but I just spent the last several hours with 3 ATF agents. I saw the shooter's picture. I know his name and home address. I also know that he used a Glock 19 and a Walther P-22. The serial number was ground off the Glock. Why would he do that and still keep the receipt in his pocket from when he bought the gun?
ATF told me that they are going to keep this low-key and not report this to the tv news. However, they cautioned that it will leak out eventually, and that I should be ready to deal with CNN, FOX, etc.
My 32 camera surveillance system recorded the event 35 days ago. This is a digital system that only keeps the video for 35 days. We got lucky.
By the way, the paperwork for Mr. Cho was perfect, thank God.
UPDATE 9:

Even in the worst of tragedies, we witness the best of humanity:
An Israeli lecturer who died in the massacre at a U.S. university saved the lives of several students by blocking the doorway of his classroom from the approaching gunman before he was fatally shot, his son said Tuesday.

Students of Liviu Librescu, 76, an engineering science and mathematics lecturer in at Virginia Tech for 20 years, sent e-mails to his wife, Marlena, telling of how he blocked the gunman's way and saved their lives, said the son, Joe.

"My father blocked the doorway with his body and asked the students to flee," Joe Librescu said in a telephone interview from his home outside of Tel Aviv. "Students started opening windows and jumping out."
UPDATE 10:
Shooter is identified as Cho Hui Seung, a 23 year old student at Va Tech. A native of South Korea, he was a "resident alien" of the U.S.
The face of a monster: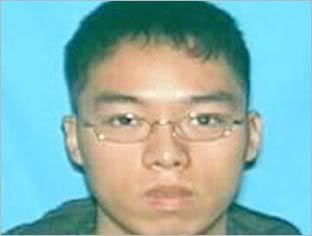 UPDATE 11:
A missed opportunity.
A court found that Virginia Tech killer Seung-Hui Cho was "mentally ill" and potentially dangerous. Then it let him go.

In December 2005 — more than a year before Monday's mass shootings — a district court in Montgomery County, Va., ruled that Cho presented "an imminent danger to self or others." That was the necessary criterion for a detention order, so that Cho, who had been accused of stalking by two female schoolmates, could be evaluated by a state doctor and ordered to undergo outpatient care.
UPDATE 12:
Warning signs?
In September 2005, Cho was enrolled in [English Professor Nikki] Giovanni's introduction to creative writing class. From the beginning, he began building a wall between himself and the rest of the class.

He wore sunglasses to class and pulled his maroon knit cap down low over his forehead. When she tried to get him to participate in class discussion, his answer was silence.
[…]
But then female students began complaining about Cho.

About five weeks into the semester, students told Giovanni that Cho was taking photographs of their legs and knees under the desks with his cell phone. She told him to stop, but the damage was already done.
[…]
"There was no writing. I wasn't teaching him anything, and he didn't want to learn anything," she said. "And I finally realized either I was going to lose my class, or Mr. Cho had to leave."

Giovanni wrote a letter to then-department head Lucinda Roy, who removed Cho.

Roy alerted student affairs, the dean's office, even the campus police, but each said there was nothing they could do if Cho had made no overt threats against himself or others.
[…]
When she and Giovanni learned of the shootings and heard a description of the gunman, they immediately thought of Cho.
UPDATE 13:
The psycho speaks from the grave.
After killing two people in a Virginia university dormitory — but before he slaughtered 30 more in a classroom building — the gunman, Cho Seung-Hui, mailed NBC News a long, profanity-laced diatribe and dozens of photographs and videos Monday morning, boasting, "When the time came, I did it. I had to."
So much for the theory that this guy just snapped. This package shows that this was planned. (Combined with the possibility Cho was responsible for the two bomb threats in the weeks leading up to this event further proves this wasn't just a 'heat of passion' kind of rampage.)