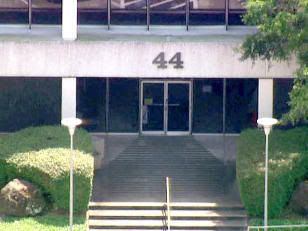 "JSC" = Johnson Space Center (NASA)
From what I'm hearing, it sounds like a disgruntled employee (from Jacobs Engineering, a private contractor) that was going to be fired today has decided to sit down and chat with his boss about the decision. KHOU has streaming video from the site. Reports that two shots have been fired.
This reminds me of the plot of a recent episode of Medium.
Time is of the essence when a disgruntled worker with nothing to lose takes Joe and three others hostage. Allison and Ariel are plagued by an overwhelming feeling of dread, as police mobilize to bring the hostage situation to an end.
In the episode, the employer was an engineering firm that designed satellites.
UPDATE:
Here's a map of JSC and Building 44:
UPDATE 2:
Building 44, just north of Rocket Park, houses the communications and engineering departments. It is used to test communication equipment for the space shuttle and International Space Station. There are several labs inside.
UPDATE 3:
HPD and NASA have scheduled a 4:30 p.m. news conference.
-Just before 2:30 PM, HPD called about shots fired
-SWAT was called, has now taken inner perimeter
-Suspect is a white male, 50-60 years old, 1 weapon (handgun)
-No motive known at this point
-NASA has sent employees home for the day
-Confirmed 2 shots fired, no confirmation of whether anyone's been shot
-Negotiators are trying to establish communication with Suspect
UPDATE 4:
Tragedy. 2 dead.
From HPD Captain Dwayne Ready: While negotiators were trying to establish communication with the gunman, he shot himself, fatally. One (male) hostage was killed (presumably early on in the standoff) and another (female) hostage was bound with tape and is still alive. Weapon was a snubnose .38 or .357.