Just kidding. They're responding in their typical fashion… with burning effigies, riots and threats of murder and terrorism.
Security around the writer was reviewed by Scotland Yard as an Iranian group placed an £80,000 bounty on his head.
[…]
"This is an occasion for the world's 1.5billion Muslims to look at the seriousness of this decision," said Mohammed Ijaz ul-Haq, Pakistan's religious affairs minister.

"The West is accusing Muslims of extremism and terrorism," he told his country's parliament.

"If someone exploded a bomb on his body he would be right to do so, unless the British government apologises and withdraws the 'sir' title."
I think this whole islamofascism stuff is simply a conspiracy created by the pharmaceutical industry. Sales of blood pressure medicine must be going through the roof in the muslim world.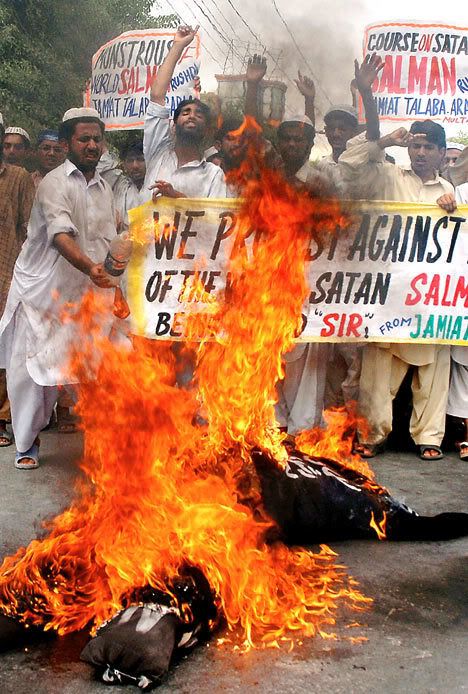 And is it just me, or do those "protest" signs look suspiciously professional? Is there some kind of Jihadi branch of Kinkos over there cranking these things out everytime someone offends islam or mohammad?
I don't know why Rushdie was granted knighthood anymore so than Elton John, Judi Dench or Bill Gates. It's not like they're someday going to be called back to the castle to don armor and ride into battle to save the Queen.
But you gotta love the global islamic hissyfits over this kind of stupid stuff.
OTHERS:
Bryan hits the nail on the head:
Adds Pakistan's Foreign Minister:

"Foreign Ministry spokeswoman Tasnim Aslam said Mr. Rushdie's knighthood would hamper interfaith understanding and that Islamabad would protest to London."

I beg to differ: The reaction to Rushdie's knighthood has enhanced my understanding of the religion of peace a great deal. Pakistani officials, secular and religious, are on the record deploring the British knighthood for Rushdie as "insensitive," but silent on the 1989 Iranian fatwa that would have seen him murdered. That says quite a bit more about Islam and its adherents than they realize. Like the cartoon jihad, the knighthood jihad is a clarifying moment in history. Most in the West are sure to miss its meaning entirely.