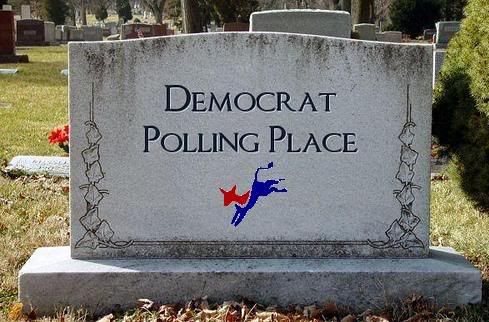 New election cycle, same old story… the party that doesn't believe life begins at conception apparently doesn't believe life ends at death, either… at least when it comes to the civic duty of voting.
It's stories like this that show exactly why Democrats keep fighting voter identification laws around the country.
Secretary of State Jay Dardenne said Tuesday he will meet today with a Democrat-affiliated group responsible for a voter registration effort that is inundating East Baton Rouge and other parish registrars with bogus and incomplete applications.

Dardenne said his investigators are trying to determine if any state election laws have been violated as thousands of voter registration cards have been dumped on registrars offices through the efforts of VIP.

"We have some very real concerns about the data we are getting from them," Dardenne said.

VIP is a Washington, D.C., group hired by national Democrats to register some 70,000 new voters in advance of the presidential and other federal elections this fall.
…
Two cards received in Caddo Parish had George W. Bush as the voter applicant with a 1600 Pennsylvania Ave. address in Shreveport, Dardenne said. Other cards have been filed for prisoners who cannot vote and dead people.
It has nothing to do with race, wealth or age and everything to do with fraud, fraud, fraud.