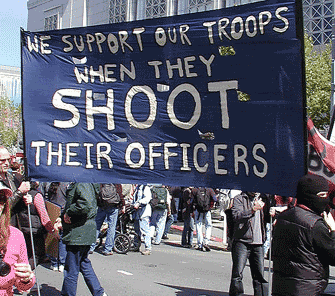 While the world waits for Democrat John Murtha to apologize to soldiers he accused of "killing Iraqi civilians in cold blood" now that they've been fully exonerated, up pops another Democrat, Wesley Clark, attempting to diminish John McCain's military service, saying McCain's military service lacks the requisite "executive experience" to qualify him to become Commander-in-Chief. Of course, he makes these comments in an attempt to bolster the campaign of the candidate he supports, Barack Obama, who not only lacks said "exeutive experience", but lacks even a day of military experience.
As usual, the Democrats show their utter lack of respect for military service, while simultaneously trying to claim they're actually showing respect for the very soldiers they attack. But this shouldn't come as any surprise. Hell, the Presidential candidate for the Democrats in 2004 was a man who accused his fellow soldiers of unspeakable war crimes while they were still in harm's way.
And speaking of John Kerry, it wasn't so long ago that Wesley Clark was praising his military service in Vietnam as qualifications for the White House.
John Kerry has heard the thump of enemy mortars.

He's seen the flash of the tracers. He's lived the values of service and sacrifice. In the Navy, as a prosecutor, as a senator, he proved his physical courage under fire. And he's proved his moral courage too.

John Kerry fought a war, and I respect him for that. And he came home to fight a peace. And I respect him for that, too.

John Kerry's combination of physical courage and moral values is my definition of what we need as Americans in our commander in chief. And John Edwards with his leadership and extraordinary intelligence, he's going to be a great member of that command team.

John Kerry is a man who in time of war can lead us as a warrior, but in times of peace, he will heed the call of scripture to lead us in beating swords into plowshares.

John Kerry will lead America with strength and wisdom. He has the will to fight. He has the moral courage born in battle to pursue and secure a strong peace.
What a difference a campaign cycle makes. When confronted with his inconsistency, Clark showed his true colors in trying to explain it way…
ROBERTS: But when it comes to that same type of qualification, you were very robustly behind John Kerry's military experience…

CLARK: Absolutely.

ROBERTS: … in your speech at the Democratic National Convention in 2004, where you talked about his experience of being there under mortar fire.

CLARK: Right.

ROBERTS: And let's listen to the way that you summed that up.

CLARK: Right.

(BEGIN VIDEO CLIP)

CLARK: John Kerry's combination of physical courage and moral values is my definition of what we need as Americans in our commander in chief.

(END VIDEO CLIP)

ROBERTS: So, you said it's what we need in a commander in chief. And I'm wondering how different was John McCain's experience from John Kerry's?

CLARK: Well, a lot, because John McCain basically served honorably and well in uniform. He did everything the country could have asked.

What John Kerry did is John Kerry got out of the uniform. He took a judgment, a judgment I didn't agree with at the time, but he had the moral courage to stand up for himself and oppose the conflict in Vietnam.
As John Hindraker correctly points out, "So Kerry's military experience was better than McCain's because after serving for four months in Vietnam, he returned to the U.S. and falsely accused his fellow servicemen of being war criminals."
That sounds about right for a Democrat.