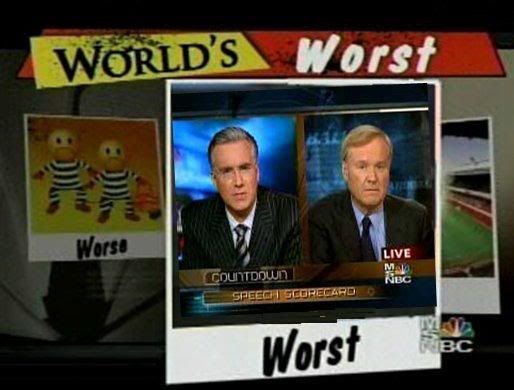 And apparently it's starting with MSNBC. The network, apparently tired of hearing complaints about Chris Mathew's Obama-inspired leg-tingles and Keith Olbermann's general idiocy decided to dump some of their bias overboard to save their sinking ship.
From another sinking ship:
MSNBC tried a bold experiment this year by putting two politically incendiary hosts, Keith Olbermann and Chris Matthews, in the anchor chair to lead the cable news channel's coverage of the election.

That experiment appears to be over.

After months of accusations of political bias and simmering animosity between MSNBC and its parent network NBC, the channel decided over the weekend that the NBC News correspondent and MSNBC host David Gregory would anchor news coverage of the coming debates and election night. Mr. Olbermann and Mr. Matthews will remain as analysts during the coverage.

The change — which comes in the home stretch of the long election cycle — is a direct result of tensions associated with the channel's perceived shift to the political left.
…
But as the past two weeks have shown, that success has a downside. When the vice presidential nominee Sarah Palin lamented media bias during her speech, attendees of the Republican convention loudly chanted "NBC."
And the Democrats claim she isn't an agent of change. The Republican VP nominee for less than 100 hours and the change is already starting…
The change casts new doubt on what some staff members believe is an effective programming strategy: prime-time talk of a liberal sort.
Of course, this is nothing new. Just like the failed Air America and other liberal ventures before it, when consumers are given the choice, liberalism is rejected in wholesale. It's why liberals have to try everything they can to package their views as something they're not. They understand their product sells about as well as a bible in Tehran.
UPDATE: A couple of our liberal friends have emailed with the usual (yet completely wrong) tripe about the MSM being completely unbiased and neutral. Sorry to disappoint you guys with the facts (again), but here's what MSNBC President Phil Griffin had to say about the political ideology of his network last year (h/t Ed):
Officials at MSNBC emphasize that they never set out to create a liberal version of Fox News.

"It happened naturally," Phil Griffin, a senior vice president of NBC News who is the executive in charge of MSNBC, said Friday, referring specifically to the channel's passion and point of view from 7 to 10 p.m.