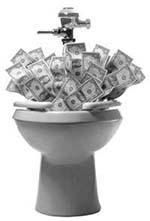 After watching trillions of our hard-earned dollars flushed down the federal government's $1,500 toilets, those same politicians who have been telling us that the economy is in such bad shape and asking us to sacrifice for the common good are out there shamelessly spending YOUR MONEY like drunken sailors.
While you're cutting coupons, Barack Obama is spending over $24,000 (or was it $250,000+?)of YOUR MONEY to take his wife on a date night in New York.
While you're wondering how much longer the transmission in your old car will hold out, Democrat, and Impeached Judge, Alcee Hastings is squandering over $2,000 per month of YOUR MONEY on a 2008 luxury Lexus.
While you're cutting back spending to just the essentials, Democrat Howard Berman is blowing $84,000 of YOUR MONEY to buy personalized calendars.
While you're thinking about giving up cable TV to save some money, Democrat Eni Faleomavaega is enjoying the season's new reality shows on his two new 46-inch Sony TVs that each cost $1,473 of YOUR MONEY.
While you're reading this post on your old, slow desktop computer, Democrat William "Bribe money in the freezer" Jefferson is using YOUR MONEY to buy a $2,793 laptop.
While you're looking for ways to trim a few dollars off your phone bill, Democrat Chaka Fattah is wasting $22 of YOUR MONEY… on a Liz Claiborne cellphone pouch.
And with respect to the irresponsible financial disaster known as the stimulus package, Joe Biden readily acknowledges that the administration is fully aware that some of YOUR MONEY is going to be wasted.
"We know some of this money is going to be wasted," Biden said during a roundtable discussion in New York with business leaders aimed at promoting the two-year stimulus plan.
This reminds me of the global warming mafia who go globetrotting in SUVS and jumbo jets to tell us we need to cut back on our emissions or politicians who blow millions lavishly remodeling their offices in the wake of a storm that left thousands of constituents homeless.
I'll start acting like there's a crisis when those who tell me there's a crisis actually start acting like there's a crisis.