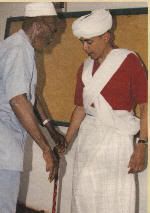 Who knew when Obama campaigned on Hope and Change, it just meant he HOPED we wouldn't notice his Muslim loyalty until after the election when he would CHANGE and embrace it?
Throughout the 2008 campaign cycle, the Community Organizer in Chief's campaign would brand as racist anyone who dared to broach the subject of Obama's Muslim roots or suggest in anyway that he might be some sort of Muslim Manchurian candidate. But suddenly, Obama himself is doing quite a bit to show the world how Muslim he can be…
During a conference call in preparation for President Obama's trip to Cairo, Egypt, where he will address the Muslim world, deputy National Security Adviser for Strategic Communications Denis McDonough said "the President himself experienced Islam on three continents before he was able to — or before he's been able to visit, really, the heart of the Islamic world — you know, growing up in Indonesia, having a Muslim father — obviously Muslim Americans (are) a key part of Illinois and Chicago."
In a speech in Turkey, Obama said:
"Many other Americans have Muslims in their families or have lived in a Muslim-majority country - I know, because I am one of them."
I don't remember if this was before or after he officially bowed to an Arab King.
And it's not just himself he's dragging into this Muslim coming out party…. In an interview with a French press outlet, the Community Organizer in Chief actually made this ridiculous statement about the entire U.S.:
"I think that the United States and the West generally, we have to educate ourselves more effectively on Islam. And one of the points I want to make is, is that if you actually took the number of Muslims Americans, we'd be one of the largest Muslim countries in the world."
Nevermind that his claim is factually inaccurate by a mile… welcome to the New Muslim America under President Barack Hussein Obama… suckers.