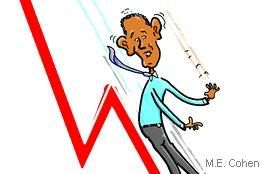 Which will hit rock bottom first? The stock market or…
Polling data show that Mr. Obama's approval rating is dropping and is below where George W. Bush was in an analogous period in 2001.
Ouch. That's gonna leave a mark.
Rasmussen Reports data shows that Mr. Obama's net presidential approval rating — which is calculated by subtracting the number who strongly disapprove from the number who strongly approve — is just six, his lowest rating to date.
Six. I think a corpse sitting in the Oval Office could've registered better than a six. If only we'd seen this coming. [/sarcasm]
Overall, Rasmussen Reports shows a 56%-43% approval, with a third strongly disapproving of the president's performance. This is a substantial degree of polarization so early in the administration. Mr. Obama has lost virtually all of his Republican support and a good part of his Independent support, and the trend is decidedly negative.